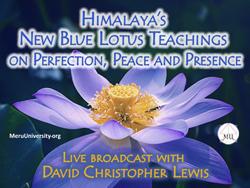 Description
Preview video with streaming words
Commune with the Perfection, Peace and Presence of the Blue Lotus!
Title
Himalaya's New Blue Lotus Teachings on Perfection, Peace and Presence
How to Access Class
1. Register by clicking on "Register" button above.
2. If you have been a Meru University student before, please login. Once you have registered, you will receive a confirmation email that you have successfully registered.
3. On the left side or at the bottom of this page, click on the
blue words
in the gray box for either the English or Spanish link to the course video.
Instructor
David Christopher Lewis
Languages
English, Español (traducción en vivo)
Fee
$10 US. Discounts available for students living in other countries.
Course Description
From the Roof of the World the Manu of the Fourth Root Race, Beloved Himalaya, shares his New Blue Lotus Teachings on Perfection, Peace and Presence with students around the world. After a PowerPoint Presentation with inspired imagery and a review of salient points from over a dozen of his previous HeartStreams from 2005 to 2020, Himalaya conducts a silent blue lotus meditation during which he instills engrams of God-consciousness within the higher minds and hearts of the students. He then shares his new teachings through David while releasing a cosmic truth serum to safeguard our spirits during this troubling time upon our planet. After a short intermission and musical interlude Himalaya darshans with the students, answering important questions on keys to more profound meditations, mastering the divine science of stillness and the holy art of silence. This great Manu is intent upon liberating the minds and hearts of higher initiates upon Earth so that each one may ascend in consciousness to partake of the greater glories and vibrations of the Masters of the Far East today and moving forward during their meditation practice.
Category
Buddhic Healing, Awareness and Beingness
Invitation from David Christopher Lewis
For assistance creating an account or accessing a course, please contact registrar@meruuniversity.org.
Meru University is the education branch of The Hearts Center, a charitable spiritual community