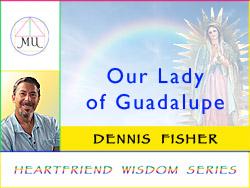 Description
Preview Video
Mother Mary's Miracle Appearance at Guadalupe
Title
Our Lady of Guadalupe
How to Access the Course
1. Log on to the website using your recognized username and password. If you do not have a Meru University account, please create one here:
Create Meru University Account
2. Click on the "Register" button above. Once you have registered and optionally made a donation, you will receive a confirmation email that you have successfully registered.
3. Click on the
blue
words
"View Full Course MU 2021-07 in English HERE"
or
"Ver curso completo MU 2021-07 en español AQUÍ"
in the gray box located on the left side or at the bottom of this page.
Sponsor
Mother Mary and Lady Clarity
Instructor
Dennis M. Fisher
Languages
English, Español (traducción en vivo)
Fee
Free or recommended donation of $10.00
Course Description
Would you like to hear the amazing back-story about Mother Mary's appearance as Our Lady of Guadalupe? Would you like to know the secret code embedded in the Tilma of Our Lady of Guadalupe?
This class gives many amazing facts revealed about our Blessed Mother, Queen of the Angels. You hear about the many events over the centuries that led to Mother Mary's first appearance in the New World and coming to Mexico. The Blessed Mother appeared to Saint James in 40 AD in Spain while she was still alive and living in Jerusalem and to Saint Luke who carved a statue of her image holding baby Jesus. That statue of the Blessed Mother later reached Christopher Columbus.
Hear an explanation of the codex of the symbolic language of the Tilma which is the LIVING Image of Mother Mary. In this interactive class, we explore what the Blessed Mother has done in our Hearts Center Movement and have an open discussion on the influence of Our Lady of Guadalupe past, present and future.
Finally, to anchor the eternal and infinite love of the Divine Mother for her children, we give an experiential prayer to Mother Mary to activate our heart chakras as we commune with her and create a bridge of living light between our Heart and Hers.
Category
Heartfriend Wisdom Series
For assistance creating an account or accessing a course, please contact registrar@meruuniversity.org.
What our students are saying:
This was a most remarkable class. The information provided was most enlightening for me, because of my deep love for the Beloved Mother Mary. I was totally enthralled with what was presented, and truly grateful. -DS

Mother Mary's miracles surrounding her appearance as Our Lady of Guadalupe in both Spain and Mexico are amazing and warrant greater study and attention as they are a phenomenal example of heaven's intercession through holy prayer, especially the rosary. -DL

Informative, beautiful, historical! Great class. Thank you. -PG

If you have heard about the story of Juan Diego and the miracle of the tilma and would like to know more astounding information, take Dennis Fisher's Meru University class. You will learn much, be astounded by what you learn, and you will may also experience Mother Mary's presence in a new way. -CW

I had never heard about (or heard) the mystical music in Mary's tilma before. Amazing! I'm so glad I took this class! -LH
Invitation Video
For assistance, please contact registrar@meruuniversity.org or call (406) 823-3040, ext. 3330
Meru University is the education branch of The Hearts Center, a charitable spiritual community