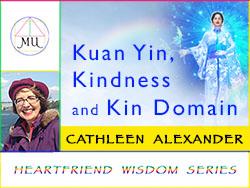 Description
Preview Video
Course Title
Kuan Yin, Kindness and Kin Domain
How to Access the Class Sessions
1. Log on to the website using your recognized username and password. If you do not have a Meru University account, please create one here:
Create Meru University Account
2. Click on the "Register" button above. Once you have registered and paid the course fee, you will receive a confirmation email that you have successfully registered.
3. The course is available in
English
and
Spanish
.
4. Click on the
blue words "View the Full Course in English HERE" or "Ver el curso completo en español AQUÍ"
in the gray box located on the left side or at the bottom of this page.
Instructor
Cathleen Alexander
Languages
English, Español (traducción en vivo)
Fee
Free or recommended donation of $10.00
Course Description
In this 90-minute course, you hear the meaning of Kuan Yin's name as "Hearer of the World's Sounds" and practice her method for listening which the Shurangama Sutra describes as her method for attaining enlightenment. We study sacred symbols of her many manifestations. You also hear a brief excerpt of a newly composed symphony to the Goddess of Mercy.
Many masters, including Kuan Yin, have spoken about the virtues of kindness and we explore some of these teachings. The instructor asks about what kindness means to you and how it has been shown in your life and in the lives of others. You learn about The School of Kindness whose mission is to spread kindness throughout the world.
In the third part of the class, we discuss Russian mystic Anastasia's concept of kin domain and how many of these family Paradise Gardens have been created already. We discuss the meaning "kin" and talk about for whom we are preparing our legacy using Kuan Yin's advice for blessing our kin. You see pictures of a kin domain garden paradise in the small Alpine town of Mount Shasta, California.
Category
Heartfriend Wisdom Series
Related Resource
Click on the book cover to order the book.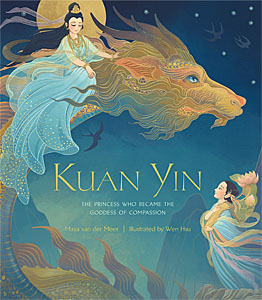 Kuan Yin: The Princess Who Became the Goddess of Compassion
Invitation Video
For assistance creating an account or accessing a course, please contact registrar@meruuniversity.org.
Meru University is the education branch of The Hearts Center, a charitable spiritual community