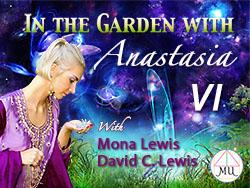 Description
Preview Video
Have You Met Anastasia and the Elemental Beings?
Title
In the Garden with Anastasia VI: Co-Creating a Place of Divine Encounters - Be Bathed in the Light of Fifth-Ray Joy in Nature's Beauty and Bounty!
Length
This event video is 1 hour and 25 minutes in length.
How to Access the Class Sessions
1. Log on to the website using your recognized username and password. If you have never taken a Meru University course in the past and do not have an account, please create one here:
Create Meru University Account
. If you have already taken a course, please do not create a new account.
2. Click on the "Register" button above. Once you have registered and paid the course fee, you will receive a confirmation email that you have successfully registered.
3. Click on
blue words "View Event Video"
in the gray box located on the left side or at the bottom of this page.
Instructor
David Christopher Lewis
Fee
$10 US. Discounts available for students living in other countries.
Category
Meru University Event; Permaculture and Elemental Life
Course #
MUE 2020-1