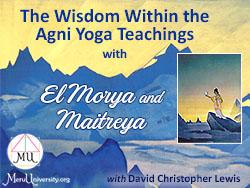 Description
Invitation Video
Title
The Wisdom within the Agni Yoga Teachings with El Morya and Maitreya (La sabiduría en las enseñanzas de Agni Yoga con El Morya y Maitreya )
How to Access the Class Sessions
1. Log on to the website using your recognized username and password. If you have never taken a Meru University course in the past and do not have an account, please create one here:
Create Meru University Account
. If you have already taken a course, please do not create a new account.
2. Click on the "Register" button above. Once you have registered and paid the course fee, you will receive a confirmation email that you have successfully registered.
3. The live course will be available in
English
with live translation into
Spanish.
4. On the class day, click on
the
blue words "Join Live Class in English"
or
"Unete a la clase en vivo en español"
in the gray box located on the left side or at the bottom of this page.
Date/Time
May 21, 2023; 11:00 am - 1:00 pm MT
Sponsors
El Morya and Maitreya
Instructor
David Christopher Lewis
Language
English, Español
Fee
$33.00 US with discounts available for international students
Course Description
During this class David will share an overview of the voluminous esoteric teachings that were released by Helena Ivanovna and Nicholas Roerich between 1924 and 1938. The Ascended Masters El Morya and/or the Maha Chohan dictated nearly daily to Helena for many years. Their insightful and concentrated Zen-like teachings carry their fiery wisdom which is still inspiring to followers of the masters today. David will share some of his favorite Agni Yoga teachings and Meru students will also be encouraged to read some quotes from one or more of the nearly twenty books by Helena and/or from Nicholas' numerous works. David will also share Nicholas' hauntingly beautiful artwork painted during his and Helena's numerous travels throughout Asia.
Category
Foundational Spiritual Practices for Initiates
Course #
MU 2023-01