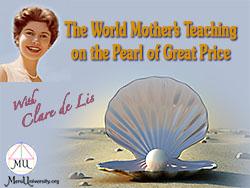 Description
Preview Video
Our Soul Is the Pearl of Great Price
Course Title
The World Mother's Pearl of Great Price
Length
Six 2-hour class videos
Sponsor
Ascended Lady Master Clare de Lis
Instructors
Cheryl Bench and David Christopher Lewis
Fee
$35 US. Discounts available for students living in other countries.
Course Description
The course provides an in-depth study of the 33 HeartStreams released by the Ascended Lady Master Clare de Lis, from November 11 through December 12, 2009, completing the Alpha to Omega spiral begun by Beloved Lanello's 33 HeartStreams that began The Hearts Center movement in 2005. Higher quintessences are woven throughout these beautiful teachings, which, when studied, contemplated and meditated upon, assist sincere students in assimilating and weaving these light essences into their own eternal Solar Body, enabling them to tap into their own Buddha-mind and being.
Category
The Self, The Higher Self and Solar Beingness
Students have an opportunity to discuss key teachings, including how we can access the light of our Solar Presence through our heart into our souls to accelerate higher consciousness. Students learn how to prepare for the shift that is happening and continue as we move through 2012 and beyond. Come and study these exciting teachings crafted specifically for those students of adeptship who desire to chart new territory and have understood that there is no other choice than to walk forward into the light and allow God to continue to initiate them beyond their prior expectations and mindsets!
Required Viewing

Agora
As Christianity gains steam in Roman Egypt toward the end of the fourth century A.D., a young slave (Max Minghella) weighs his desire for freedom against his growing love for his mistress (Rachel Weisz), an atheist as well as a professor of philosophy. Alejandro Amenábar (The Others) directs this epic drama based on the life of Hypatia of Alexandria, a noted Greek scholar and mathematician. Rupert Evans co-stars.


Rated R for violence and nudity


Available for Sale or Rent on Amazon
Also available on Netflix
Recommended Reading

The Hope, A Guide to Sacred Activism by Andrew Harvey


"Every age has its teachers, who keep the eternal truths alive for all of us," writes Marianne Williamson, the best-selling author of "The Age of Miracles. ""In the case of Andrew Harvey, the light he sheds is like a meteor burst across the inner sky."In "The Hope, "Andrew Harvey offers""not only a guide to discovering your divine purpose but also the blueprint for a better world. It consists of the necessary elements that can inspire greatness in each of us. Based on Harvey's concepts of Sacred Activism, a global initiative designed to save the world from its downward spiral of greed, pain, and self-destruction, the book is an enlightening text that reflects our world today, while in turn, shapes our future.There are seven laws of Sacred Activism that have the potential to transform our world. Each law, in its own unique way, promotes love above all other impulses. Sacred Activism is about finding gratitude, forgiveness, and compassion; it is about opening yourself up to the kindness within you, letting go of pain, and making a conscious choice to help heal the world.Learn how to incorporate a spiritual practice into your life, transform anger into positive energy, and take part in a global community. Reclaim a world that for too long has been driven by selfishness and hatred. Discover the infinite joy of giving. Turn away from everything you have been and done and believed, and dive into the consciousness of a divine love that embraces all beings. While the future may appear bleak, "The Hope "provides practical advice to all those who want positive change.

How to Free Your Mind: Tara the Liberator

by Thubten Chodron

The beloved deity Tara is the feminine embodiment of enlightenment. For centuries, practitioners have turned to her for protection from both external and internal dangers, from fire to arrogance. This well-written book, presented in conversational style, is an authoritative guide to the practice of Tara. Includes very helpful chapters on the whys and hows of various Tara practices as well as a commentary on the "Homage to the 21 Taras."

Initiation Human and Solar by Alice Bailey

An initiation is an expansion of consciousness, leading to revelation and illumination. Initiation is experienced by all forms of life, great and small. The work of the planetary Hierarchy, in its many stages of Mastership, is outlined in this book, and the Fourteen Rules are given by which the neophyte may become an Applicant at the Portal of Initiation.

This booklet is about a vision foretelling the future coming together of The Hearts Center.
3-Minute Course Preview
For assistance, please contact registrar@meruuniversity.org or call (406) 823-3040, ext. 3330