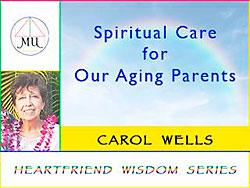 Description
Preview Video
How Can We Provide Spiritual Care for Our Aging Parents?
Title
Spiritual Care for Our Aging Parents
How to Access Class
1. After logging on to the website using your recognized username and password, click on the "Register" button above. Once you have registered, you will receive a confirmation email that you have successfully registered.
2. To view the course videos, click on "View Lesson Video" in blue words in the gray box to the left or on the bottom of this page.
Fee
Free or Make a Donation
Course Description
What do students on the spiritual path bring to the care of their aging parents? A lot. There are obvious ways we can spiritually assist our parents as they go through what could be the most difficult times of their current embodiment. There are also some not-so-obvious practices that will benefit this most important family relationship—parent-child. Learn from the experiences of heartfriends currently caring for elderly parents what they are doing and what they are learning about the process and about themselves.
Category
Heartfriend Wisdom Series; Golden-Crystal Age, The New Age and Aquarian Living
Course #
MU 1704