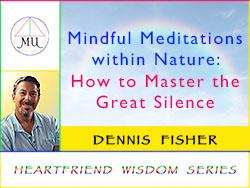 Description
Preview video with streaming words
Choose to Commune within Nature in Mindfulness and Joy!
Course Title
Mindful Meditations with Nature: How to Master the Great Silence
Length
One 2-hour video class
Instructor
Dennis M. Fisher
Sponsors
Lanello, Jesus and The Voice from the Great Silence
Fee
Free or Make a Donation - Recommended donation US $10.00 or more
Course Description
This course touches upon how to achieve the goal of life, union with God, through meditation, mindfulness and entering in the Great Silence. We explore several meditation techniques. The course leads you to a deeper understanding of the nature of maya and the mind to be firmly rooted in the one reality, the absolute, The Great Silence.
Category
Heartfriend Wisdom Series; Heart Centeredness, Heart Mindfulness, Heart-Soul Connection
Course Outline:
What is Mindfulness?
What is Meditation?
What and where is the Great Silence?
How meditation on your true nature is a door to the Great Silence.
Discussion Question:
Describe a time when you were in nature, hiking or on the beach or even just outside, when you felt a profound connection with God.
For assistance creating an account or accessing a course, please contact registrar@meruuniversity.org.
Meru University is the education branch of The Hearts Center, a charitable spiritual community