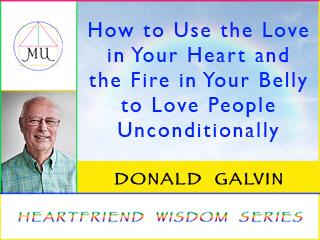 Description
Course Title
How to Spiritually Deal with Crime and Gangs in the Major Cities
Length
One 2-hour video class
Sponsors
Jesus and Magda, Lanello and Clare de Lis, The Masters of the Rosy Cross and The Holy Spirit
Purpose
Learn to love all people unconditionally including family, heartfriends, co-workers, strangers, "enemies" and ultimately all mankind.
Fee
Free or Make a Donation - Recommended donation US $10.00 or more
Course Description
What does it mean to practice unconditional love and how do we truly achieve it in our daily lives? In this class we explore the teachings and practices of some of the greatest demonstrators of unconditional love the world has seen―and experience joy and mirth while doing so. Gain fresh inspiration from these timeless saints and modern-day heralds, whose messages will lift you up into a flowfield of pure love. And you will desire to abide there forever! Come experience the fire!
Category
Heartfriend Wisdom Series
For assistance, please contact registrar@meruuniversity.org or call (406) 823-3040, ext. 3330
Meru University is the education branch of The Hearts Center, a charitable spiritual community