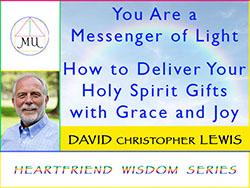 Description
Preview Video
We Are All Messengers of Light!
Title
You Are a Messenger of Light: How to Deliver Your Holy Spirit Gifts with Grace and Joy
How to Access Class
1. After logging on to the website using your recognized username and password, click on the "Register" button above. Once you have registered, you will receive a confirmation email that you have successfully registered.
2. To view the course videos, click on "View Lesson Video" in blue words in the gray box to the left or on the bottom of this page.
Instructor
David Christopher Lewis
Course Description
Did you know that you are a messenger for God if you choose to be? During this class we explore what it means to be a messenger of light, what types of messengers there are, and what the qualifications are to be a messenger. We peer into dimensions of quantum consciousness and look at examples of messengers who have brought God's truth to humanity through their gifts and talents in different arenas, especially through quantum science, uncovering new modalities for health and healing. You will have an opportunity to engage in a practical exercise, whereby you will listen to your inner voice, meditate on your message and practice delivering it based on your internal guidance and communion with God. Discover the wave of light of your own messengership!
Category
The Self, The Higher Self and Solar Beingness
Course #
MU 1719
For assistance, please contact registrar@meruuniversity.org or call (406) 823-3040, ext. 3330
Meru University is the education branch of The Hearts Center, a charitable spiritual community