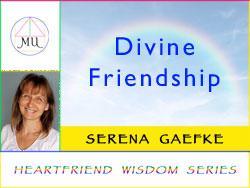 Description
Preview Video
Reconnecting with The Divine Friend
Sponsor
Spirit of Friendship
Languages
English, Español (traducción en vivo)
Fee
Free and Donations are Welcome!
Course Description
Would you benefit from reconnecting with The Divine Friend? Join us for this 1½ hour class as we explore divine friendship with heaven, mankind and nature. The class includes ascended master teachings, uplifting imagery and opportunities to share how you apply the teachings! Be inspired, enlightened and empowered!
Category
Heartfriend Wisdom Series
MU 2020-02: Divine Friendship
Purpose of the Course
The purpose of this course is to promote Divine Friendship among one another, the heavenly hosts and all life and to provide inspiration and tips on improving our own connection with the One Friend in all.
General Objectives
Understand the qualities of friendship

Find keys to coming closer with God in our friendship with Him/Her.

Reflect on ways to form spiritual friendships with one another that help us on our path.

Consider ways we can form greater friendships with nature.

Share how you apply these teachings through sharing opportunities.
Course Outline
Definition of friendship

Ascended master teachings and quotes on friendship with God

Yogananda's teachings on Divine Friendship with each other

Newhouse and Omraam's teachings on how to approach nature

Includes uplifting imagery, stories, guided meditation, ideas, discussion and more!
Invitation Video (Short)
Meru University is the education branch of The Hearts Center, a charitable spiritual community