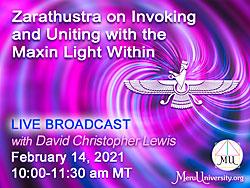 Description
Preview video with streaming words
Unite with the Maxin Light Within
Title
Zarathustra on Invoking and Uniting with the Maxin Light Within: A Divine Dive into the Eternal Flame of Truth, Harmony and Oneness
How to Access Class
1. Register by clicking on "Register" button above.
2. If you have been a Meru University student before, please login. Once you have registered, you will receive a confirmation email that you have successfully registered.
3. On the left side or at the bottom of this page, click on the
blue words
in the gray box for either the English or Spanish link to the course video.
Instructor
David Christopher Lewis
Languages
English, Español (traducción en vivo)
Fee
$10 US. Discounts available for students living in other countries.
Course Description
Zarathustra presents new teachings on how to utilize the Maxin Light upon our spiritual path. The class includes a meditation on the eternal flame as it abides both within the etheric planes and within the crystal chamber of our hearts. Visualizing and then consciously entering this flame propels us to a higher state of being within the divine world where we can know truth, experience harmony and evolve to an awareness of feeling and maintaining our oneness with God and all life.
Category
The Self, The Higher Self and Solar Beingness
For assistance creating an account or accessing a course, please contact registrar@meruuniversity.org.
What our students are saying:
My threefold flame was blazing and expanding throughout the entire class. It was a joy to experience through Zarathustra's intercession the dynamism of the Maxin Light within me. I felt it, I lived it and now I AM it. -DG

The meditation that was presented with the tiny flames of light penetrating my aura was indescribable. Never have practiced that type of meditation and felt much spiritual development and massive healing going on physically and mentally. I think I now have a stronger connection to Zarathustra. -VE

The course is indeed embedded with more than we think. And it is fully multidimensional and universal. -CG

Along one's spiritual journey, there comes a time when a deeper understanding of the connection and function of the heart chakra is necessary to learn about, so that you are then able to consciously spiritualize your own physical body temple with greater precision. By doing so, you can enter into the next Spiritual step of increasing your level of Service to all Life. I am so happy that I was present. I plan to review the class. There was so much depth of Wisdom presented. -KW

Learn how you can experience the joy in the holiness of attending to the Maxin light. -JL
Invitation from David Christopher Lewis
Meru University is the education branch of The Hearts Center, a charitable spiritual community