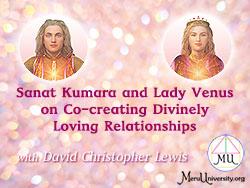 Description
Preview video
Balance Earth and Heaven in Your Relationships
Title
Sanat Kumara and Lady Venus on Co-creating Divinely Loving Relationships: Your Marriage Made in Heaven and Upon Earth
How to Access Class
1. Register by clicking on "Register" button above.
2. If you have been a Meru University student before, please login. Once you have registered, you will receive a confirmation email that you have successfully registered.
3. On the left side or at the bottom of this page, click on the
blue words
in the gray box for either the English or Spanish link to the course video.
Sponsor
Sanat Kumara and Lady Venus
Instructor
David Christopher Lewis
Languages
English, Español (traducción en vivo)
Length
Approximately 2 hours (One hour and 50 minutes)
Fee
$10 US. Discounts available for students living in other countries.
Course Description
How do we balance our spirituality within a romantic relationship? Answer: We co-create a divinely loving relationship in which both heaven and earth are balanced and in which our partner and we are honored in a dynamic and cooperative spirit of true friendship and mutual respect. In this class Sanat Kumara and Lady Venus overshine David and each student while providing Aquarian insights into how we can live lovingly and fruitfully together while still engaged in an initiatic path toward complete union with God.

Our Venusian friends share keys such as: developing great communication and listening skills; appreciation, forgiveness and levity as healers; fun and creative activities that bring us closer; sharing household responsibilities to maximize time together; allowing space without being aloof or remote; optimism, positivity and lightheartedness to "tenderize" our souls and spirits; holding the high ideal, divine image and magic presence for our partner and ourselves.

In addition to the insights of the Kumaras this class offers a musical meditation on divine love and a darshan where students asked questions of the masters. Prepare to be illumined, empowered and transformed within a beautiful love-field uniquely created during this class.

Note: This class will still benefit single people not currently in a relationship, for you can apply the spiritual wisdom to your inner relationship with your own Divine Beloved, whether in heaven or not yet discovered upon Earth!
Category
Divine Love and Twin Flames
Course #
MU 2021-03
Course Booklet (downloadable PDF):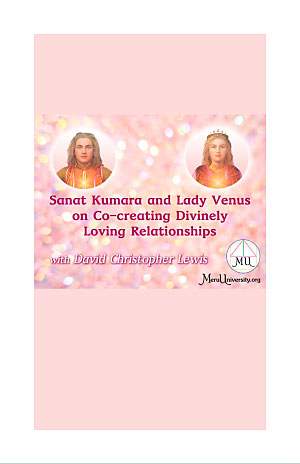 For assistance creating an account or accessing a course, please contact registrar@meruuniversity.org.
Meru University is the education branch of The Hearts Center, a charitable spiritual community