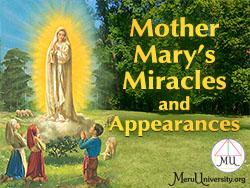 Description
Invitation Video
Title
Mother Mary's Miracles and Appearances
How to Access the Course
1. Log on to the website using your recognized username and password. If you do not have a Meru University account, please create one here:
Create Meru University Account
2. Click on the "Register" button above. Once you have registered and optionally made a donation, you will receive a confirmation email that you have successfully registered.
3. Click on the
blue
words
"View Class Video and Resources in English HERE"
or
"Ver el curso completo en español AQUÍ"
in the gray box located on the left side or at the bottom of this page.
Instructor
David Christopher Lewis
Languages
English, Español
Fee
$10 US. Discounts available for students living in other countries.
Course Description
David reviews the various apparitions of Mary around the world and throughout the ages, including her basic messages and the miracles she has provided to devoted souls. David discusses how Mary's appearances and HeartStreams through our dispensation are also important as a part of this heritage and demonstrate a continuity in her desire to communicate with humble aspirants or devotees who become her messengers and who are often denounced or misunderstood by orthodox religious institutions.
David briefly reviews some keys from our new book Mother Mary's Messages: Holiness, Healing and Hope for the New Age and how these complement her previous messages and offer a new view about our spiritual path at this time. Mother Mary offers new insights as she answers questions from the students that are apropos.
Category
Adeptship and the Path of Initiation to the Ascension
Course #
MU 2022-01
Mother Mary's Messages: Holiness, Healing and Hope for the New Age Volume 1
by David Christopher Lewis
From the Queen of the Angels
Mother Mary's messages are of great relevance in these challenging times. She calls us to prayer, holiness and reflection on our inner lives. In each message, she lifts us up in Spirit and encourages us with her loving immaculate heart and perfect vision to try to see life from a higher perspective and with a more compassionate and loving attitude toward all. Her teachings open the door to transforming our lives and world.
Recommended Reading

The Secret of the Rosary by St. Louis De Montfort Click on the book cover to order printed book. And HERE to download free PDF of book.
Recommendation by David Christopher Lewis, course instructor
I recommend that you secure this book,
The Secret of the Rosary
by Saint Louis de Montfort. This is an amazing book. I will read some excerpts from it during the class. It is so inspiring that it has brought me an even greater focus and dedication to the immaculate heart of Mary. I can say truly that those who follow her recommendation to give the rosary daily will receive blessings, especially at the time of their transition, hopefully escorting them into heaven permanently in the ascension if it is their timetable. Saint Louis de Montfort is one of the greatest advocates of the rosary. And if you secure this book and read it before the class, I know that you will have a foundation that will be absolutely tremendous as we discuss her miracles, appearances and communiqués for today.
Details:
Mary Barbour, T.O.P. , is the translator. Scriptural citations (footnotes in the original edition) have been incorporated into the main body of the text. Scriptural citations correspond to the Douay-Rheims Version. The text is divided into Decades, mirroring the format found in the Montfort Father's translation of 1987.
What our students are saying
Progressive revelation is happening through The Hearts Center! Mother Mary guides us through ongoing teachings here in The Hearts Center. - CH
I loved seeing the many visions and apparitions of Mary. A shame that many are not taken seriously. As a Lutheran I've even been chastised for my Devotion to Her (in spite of my vision of Her). Mary needs to be taken seriously!!! - RK
The subject matter was mesmerizing! I love Mother Mary and this class was exquisite! - DS
What David shared helped me to desire to give the rosary daily, which has not been my priority. I love Mother Mary with all my heart, yet having been brought up as a Christian evangelical, there has been an aversion to offering any form of the rosary. - CW
It was so reassuring to remember that Mother Mary and other ascended masters are with us, helping us in times of trouble. The presentation was beautiful, as is everything that David does. Thank you, Mother Mary, for loving us and being part of our life. – SM
I'm realizing more than ever how powerful giving the rosary is! – LH
Living in the Golden Age now, we can lovingly communicate with ones like Mother Mary through darshans which are extremely valuable and soul saving. I love your research and pictures in this class. I love the beautiful songs that are so inspirational. I love the healing miracles of people that visited monasteries - both Roman Catholic and Orthodox Catholic! There are so many we cannot number. – LJ
Every time the Masters instruct us, we gain new knowledge and, hopefully, new wisdom regardless of how many times we've heard the same teaching. And, with Mother Mary, the reassurance of her special Mother Ray to all her children. As a student of the ascended masters, that perspective is very important so I'll take these courses again and again. – GS
Mother Mary can do anything that we need to have done with help from us in rosaries. – LM
For assistance creating an account or accessing a course, please contact registrar@meruuniversity.org.
Meru University is the education branch of The Hearts Center, a charitable spiritual community