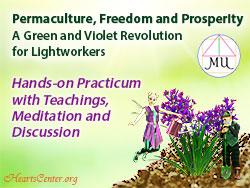 Description
Preview video with streaming words
Permaculture heals the earth, the environment and us!
Title
Permaculture, Freedom and Prosperity - A Green and Violet Revolution for Lightworkers
How to Access the Class Sessions
1. Log on to the website using your recognized username and password. If you have never taken a Meru University course in the past and do not have an account, please create one here:
Create Meru University Account
. If you have already taken a course, please do not create a new account.
2. Click on the "Register" button above. Once you have registered and paid the course fee, you will receive a confirmation email that you have successfully registered.
3. Click on
blue words "Class 1, 2, 3, 4 or 5: View Videos"
in the gray box located on the left side or at the bottom of this page. Please note that four of the classes consist of 2 sessions each with nine videos total.
Instructor
David Christopher Lewis
Fee
$30 US. Discounts available for students living in other countries.
Course Description
This permaculture practicum is wonderful fun and learning for the entire family. Enjoy watching and putting into practice in your own life thirteen hours of hands-on instructions, meditations, teachings, and more—all hosted from the beautiful property of the Paradise Permaculture Institute and facilitated by Mona and David Lewis. Mona Lewis is the co-founder and President of Paradise Permaculture Institute, a Montana Corporation for education of sustainable, edible gardens and landscapes. Mona's permaculture mini-class is packed with innovative gardening practices and principles that allow us to create a thriving, sustainable way of life as we put what we are learning into action where we live.
Each of the five elements – earth, water, air, fire and ether – is highlighted, one per class, with special presentations by those who have environmental expertise. "We demonstrate how to work with nature to co-create abundant foodscapes and sacred spaces."–Paradise Permaculture Institute.
Category
Meru University Event; Permaculture and Elemental Life
Course #
MUE 2021-1