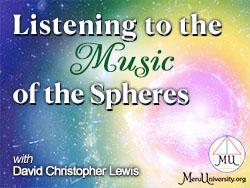 Description
Title
Listening to the Music of the Spheres (Escuchar la música de las esferas)
How to Access the Class Sessions
1. Log on to the website using your recognized username and password. If you have never taken a Meru University course in the past and do not have an account, please create one here:
Create Meru University Account
. If you have already taken a course, please do not create a new account.
2. Click on the "Register" button above. Once you have registered and optionally donated, you will receive a confirmation email that you have successfully registered.
3. Click on the
blue
words
"View Class Video in English"
or
"Ver curso completo en español"
in the gray box located on the left side or at the bottom of this page.
Instructor
David Christopher Lewis
Languages
English, Español
Fee
$10.00 US. Discounts available for students living in other countries.
Course Description
Thomas Carlyle said that music is the speech of angels. In this class we experience music as a metaphor and doorway to higher consciousness, accelerated spiritual attainment and our union with God. We discover how various types of music afford us insights into our divine nature while providing an impetus of joy. Inspired music may have a profound effect upon our senses, psyche and soul, even raising us into heavenly bliss to know God more intimately through our higher feeling body.
Numerous composers were initiates and messengers of divine music through whom angels and heavenly beings dictated creative concertos, celestial sonatas, dynamic operas, playful fugues and sweeping symphonies. In this two-hour class, we listen to and meditate upon some of David's favorites which include stirring strings, resounding woodwinds, harmonious harps and powerful pianos all exhibiting how melodic and harmonic sound can impel us into ecstasy and a new Aquarian state of loving awareness.
This class was interactive as time was provided for the students to ask questions and to share their insights.
Category
Art and Music of the Aquarian Age
Course #
MU 2022-02
Resources
Links to store items for Heart Center Composer Compilations
The Sweet Music of Nancy Kolze - Digital Download
The HeArt Music of Maria Min - Digital Download
The Music of Carol Wells - Digital Download
The Inspirational Music of Dean Anderson - Digital Download
The Golden Music of Lynelle Griffin - Digital Download
HeartStream: Himalaya
Experiencing Music to Transform and Cleanse Our Four Lower Bodies Through the Five Elements