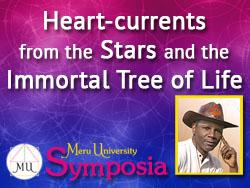 Description
Invitation Video
Course Title
Heart-currents from the Stars and the Immortal Tree of Life (Corrientes del corazón de las estrellas y del árbol de la vida inmortal)
How to Access the Class Sessions
1. Log on to the website using your recognized username and password. If you have never taken a Meru University course in the past and do not have an account, please create one here:
Create Meru University Account
. If you have already taken a course, please do not create a new account.
2. Click on the "Register" button above. Once you have registered and paid the course fee, you will receive a confirmation email that you have successfully registered.
3. To access the course classes, click on the
blue words "View Class in English HERE"
or
"Ver la Clase en español AQUÍ"
in the gray box located on the left side or at the bottom of this page.
Instructor
Kevin David Raphael Fitch
Languages
English, Español
Length
Two 90-minute class sessions
Fee
Free or recommended donation of $10.00
Course Description
In today's world is it worthwhile to speak of the sacred fire? Yes!
This class covers and takes form as hands-on opportunity to work, to play with fire, the sacred fire that is, as a balancer of our elements. Raphael discusses the constantly emanating fiery releases of the stars and how we may consciously, feelingly, mediate their beautiful currents into our personal world of action, at any time. We establish energetic rapport with the Tree of Life, as a bridge to The Infinite, explore the Cosmic Clock in easy tangible ways, by charting large and small cycles, starting with the beginning of the 21st century down to any hour of the day. Raphael points out why 2023 and 2024 are important years to work judiciously and lovingly with the sacred fire. We talk about the phenomenal effects of the apparent coming Age of Aquarius and the departing Age of Pisces, their relationship to the sacred fire and why the juxtaposition of their currents is behind today's quickened march of world events. And much more.
Category
Aquarian Virtues, Values and Divine Science
For assistance creating an account or accessing a course, please contact registrar@meruuniversity.org.
Meru University is the education branch of The Hearts Center, a charitable spiritual community