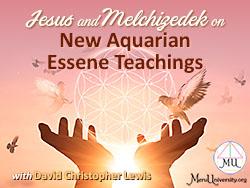 Description
Invitation Video
Title
Jesus and Melchizedek on New Aquarian Essene Teachings (Jesús y Melquisedec hablan sobre las nuevas enseñanzas esenias acuarianas)
How to Access the Class Sessions
1. Log on to the website using your recognized username and password. If you have never taken a Meru University course in the past and do not have an account, please create one here:
Create Meru University Account
. If you have already taken a course, please do not create a new account.
2. Click on the "Register" button above. Once you have registered and paid the course fee, you will receive a confirmation email that you have successfully registered.
3. To access the course video, click on the
blue
words
"View Full Course in English HERE"
or
"Ver curso completo en español AQUÍ"
in the gray box located on the left side or at the bottom of this page.
Length
One 2-hour class session
Instructor
David Christopher Lewis
Languages
English, Español
Course Description
Jesus and Melchizedek offer this very special and timely course on New Aquarian Essene Teachings. Jesus, who has been speaking to us in HeartStreams about the importance of the hour, and Melchizedek, who is a cosmic high priest and originator of the ancient and Holy Order of the Priesthood of Melchizedek, overshine David Christopher Lewis with fresh and spontaneous Essene teachings as the Age of Aquarius dawns! At least 45 minutes is afforded for questions and answers to Jesus and Melchizedek from the students.
Category
Golden-Crystal Age, The New Age and Aquarian Living
Course #
MU 2023-04
Our students are saying:
Thank you so much, David, Jesus and Melchizedek. I will try to emanate peace with the help of God! -MCP
For assistance creating an account or accessing a course, please contact registrar@meruuniversity.org.
Meru University is the education branch of
The Hearts Center
, a charitable spiritual community