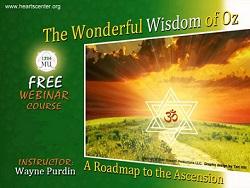 Description
Preview Video with streaming words
An Inner Adventure with the Wisdom of Oz
Course Title
The Wonderful Wisdom of Oz: A Roadmap to the Ascension
Lessons
Two 3-hour class videos
Fee
Free or Make a Donation - Recommended Donation of $10 or more
Course Description
Wayne Purdin, children's author and literary authority on Baum, takes you into a world of profound insight, spiritual symbolism, and fantasy. Enter his FREE webinar playshop for 6 hours of dance, song, yoga, meditation and inner-child dialog and discover The Wonderful Wisdom of Oz! Engage your heart, your mind and your body in the deeper mysteries of Baum's spiritual symbols and see how far you've come on your journey along the path of the ascension.
Course #
Originally given in 2013 as MU1304
Category
Heartfriend Wisdom Series
The Wonderful Wisdom of Oz Playshop!
As it turns out, our vivid memories of the wizard, of witches and munchkins, the scarecrow, the tin man and the lion—all part of Toto and Dorothy's valiant search for home in that timeless tale, The Wonderful Wizard of Oz, are richly symbolic of a journey we must all make through a spiritual realm. The 1939 MGM movie based on L. Frank Baum's storybook, written in 1900, conceals a code for a "yellow brick road" each of us is following today.
This isn't Kansas anymore
This inner adventure will transform your spiritual horizon with new insights. Wayne incorporates humor, movement and reflective journaling in this immersion experience into a spiritual realm that will delight, enliven as well as enlighten you. You will gain an appreciation of the spiritual symbols, universal truths and wonderful wisdom contained in The Wonderful Wizard of Oz, the first American fairy tale, now loved by people all over the world and translated into over 50 languages. Over a billion people have seen the movie!
Wayne's playshop will explore, in a very applicable and personal way, the spiritual symbolism and meaning behind all the characters in the story, from those good and bad witches and the munchkins within our psyche to everyone's beloved heroes—the scarecrow, the tinman, and the lion. We all are tempted to put our faith in wizards, those authority figures in government, religion, and medicine who claim they can solve our problems. We all have to deal with the Winkies, wolves, crows, hornets, and flying monkeys (negative people, emotions, and thoughts; worry; addictions) that ally themselves with the wicked witch. And as certainly as we all wish for our true spiritual "home," we will surely get there.

There's no place like home!
In this playshop you'll be delighted to discover what is right there all along as Wayne shows you how to…
meet your good witch;
use the power of your magic slippers to travel between dimensions;
heal the relationship between your wicked witch of the East and your munchkin;
strengthen and balance the three qualities of your scarecrow, tin man, and lion;
transmute those mental, emotional, and unconscious issues that keep you stuck on the side of the yellow brick road;
overcome the negative people, negative emotions, negative thoughts, worries, and addictions along the way; and
dissolve the wicked witches with fire and water.

The Cowardly Lion said it...
"C'mon! What are we waiting for?" Register today! This Wonderful Wisdom of Oz Playshop is absolutely FREE. Come play and meditate, enrich your journey with spiritual insights and delightful images. You might just find yourself transported back to the safety and comfort of OM.
We all love being transported to the fantasy worlds of wizards and fairies, magic and miracle! Sometimes we instinctively know they speak to us in code and spiritual symbols regarding choices to be made in our own lives.
In 1900, Frank L. Baum wrote The Wonderful Wizard of Oz, the first American fairy tale. It later became the MGM movie, The Wizard of Oz, which has now been seen by over a billion people worldwide. What this tale hides in plain sight are the secrets to every person's journey home. In the new Disney release, based on Baum's story, OZ, The Great and Powerful, we see temptation, the quest, and the choice offered to us all between mediocrity and greatness.
Come play and meditate, journal, dance, and sing with us in our FREE Wonderful Wisdom of Oz Playshop and discover the secrets of Oz. This 6-hour webinar sponsored by Meru University will reveal the spiritual symbols embedded in The Wonderful Wizard of Oz as codes that unlock each soul's psychology. And you'll also pick up powerful spiritual tips for your successful journey home.
Course Materials: