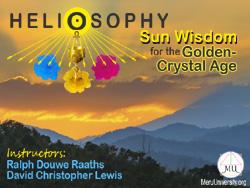 Description
Preview Video
Sun Wisdom and the Cosmos
Course Title
Heliosophy: Sun Wisdom for the Golden-Crystal Age
Sponsors
Omraam Mikhaël Aïvanhov
Instructors
Ralph Douwe Raaths and David Christopher Lewis
Fee
Free and Donations are Welcome!
Course Description
Master Omraam, as the great promoter of the Sun for this age, sponsors and invites you to our two-session seminar on Sun Wisdom.
* Gain a broader and deeper understanding of the dawning of a Solar Age.
* See what happens when we invoke the light of wisdom from The Twelve Solar Hierarchies into the practical realities of life.
* Learn the connection between creating a new age and the importance of purifying and strengthening the twelve meridians of our four lower bodies.
Category
Golden-Crystal Age, The New Age and Aquarian Living
Spiritual Sunlight Synthesis and More
The Great Central Sun is the source of a continuing stream of wisdom and insight. This stream instills within life its incarnated virtues and manifests them through inspired action as new constructs of the physical world. This is the higher Sunlight Synthesis for our spiritual growth, just as photosynthesis is a requirement for plant growth.
Possibilities for the Children of the Sun and for Planet Earth
All humanity benefits, as some experience a gradual awakening.

There is an accelerated dawning of a new world view aligned with the Solar stream of wisdom flowing from the Central Sun.

The great initiator Lord Maitreya will return, as one teaching shares, to raise humankind into the light of the solar hierarchies and prepare the way for planet Earth to ascend.
Lord Maitreya's Return
Receive more understanding regarding the coming of Lord Maitreya, destined to reestablish a holy order of "Sons and Daughters of the Sun." Discover how cosmic beings Rama and Melchizedek work with the Master Omraam to raise mankind into a golden age.
December 21, 2012—More about Its Meaning
Come learn more about the mystical meaning of December 21, 2012. Find out what other cosmic event coincided with the ending of the Fifth Sun cycle of the Mayan calendar. And discover what these two events mean for our planet and its spiritual evolution.
We look forward to being with you!
Recommended and Required Reading
Click on the book cover to order the book.
Recommended Reading

Toward a Solar Civilization
by Omraam Mikhaël Aïvanhov. 148 pages.
Although we may know about heliocentricity from the point of view of astronomy, we are still far from having exhausted all its possibilities in the biological, psychological, cultural and spiritual spheres. The sun exists within each one of us and, if allowed to, can manifest its presence by awakening our consciousness to a global view of human problems.

Testimonials
"Ralph's presentation was almost mesmerizing. Since much of the information was new to me, I plan to hear it again so I will know it better."—D.K.

"Ralph's teachings about the evolution of group consciousness into individual consciousness in connection with earth's evolution was a mind-opening, mind-blowing revelation to me."—R.L.

"It was great to get the big historical picture of Lemuria, Atlantis and Eqypt. Loved it!"—L.D.

"It was one of the best ever. Ralph is a wonderful teacher and an exciting speaker. He brings everything alive in the moment in your mind."—D.D.

"WOW It was just all so enlightening. The research presented was incredible. The delivery--only Ralph can make such a delivery!! I thought the information about language was particularly fascinating. Ralph is totally amazing in his delivery skills and shares with so much passion and strength. We are all richly blessed to have him as an instructor for Meru U and head of our international council."—M.T.
2-Minute Course Preview
About Our Instructors

Ralph Douwe Raaths was born in Lusaka, Zambia. The son of a farmer and rancher, he helped herd cattle and sheep and tended several acres of maize. After graduation from university, Ralph entered the industrial instruments process and control trade. From an early age, Ralph took an interest in evolution and related subjects. This led to an earnest quest for answers to the mysteries of life. He embarked on in-depth studies of eurythmy,* drama, astronomy, astrology, mythology, metaphysics, history, freemasonry, African traditions, mental health and storytelling.
It was Rudolf Steiner's methodology of spiritual-scientific thinking that captivated his attention most. After the completion of a four-year training, Ralph received a eurythmy diploma in Teaching and Artistic Performance at the Cape Town School of Eurythmy. He also had postgraduate training at the London School of Eurythmy.
Ralph is an accomplished lecturer, speaking on various aspects of cosmology. In 2003, he co-founded and was the program director of Viva Youth College, whose mission was the upliftment of young people diagnosed with schizophrenia, bipolar and other biochemically related mental disorders. He has done extensive work with adolescent, drug and dysfunction-related problems, all based on Dr. Rudolf Steiner's work.
He has studied ascended master teachings for more than twenty years and is currently the president of the International Council of The Hearts Center.

*Eurythmy, developed by Dr. Rudolf Steiner, is the art of making speech and music visible through gesture and movement. The training is mainly artistic by nature—poetry, painting, speech and music being emphasized—but firmly founded within the philosophical, psychological and therapeutic subject matter of Dr. Steiner and the Waldorf School curriculum.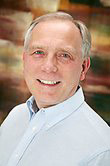 David Christopher Lewis is a gifted clairaudient, an Aquarian spiritual author and talented musical composer. He is co-founder of The Hearts Center Community and Meru University. His mission is to share the ascended masters' teachings and their practical, sometimes startling, progressive revelations for personal awakening and Self-Realization.

Born in the Chicago area, David was the sixth of ten children. At the age of 14, he embraced the concepts of karma and reincarnation after reading Edgar Cayce's The Sleeping Prophet. He has studied the world's major religions for four decades and lived and worked in an intentional spiritual community for 22 years. In the spring of 2004, David experienced a mystical awakening and began receiving regular telepathic communications from angels and enlightened spiritual beings, known as ascended masters.
David has now received and delivered more than 5,000 messages from angels, masters and divine beings. He calls these messages "HeartStreams"—progressive revelations for today on diverse topics, including divine science, advanced alchemy, cosmic solar awareness, the New Blue Wave, abundance and healing.

David's publications include Light on the Path: Inspiration for Each Day of the Year (2017), Living a Soulful Life : Afra's New Teaching On Love, Brotherhood, and Freedom (2015), Saint Germain on Advanced Alchemy(2015), Advanced Studies of the Human Aura (2014); Now, Zen and Always (2008), a feast of spiritual wisdom, coined in succinct quips; Mother Mary's Missions—Messages from the Divine Mother (2010), a compilation of teachings received during The Hearts Center's eight-day whirlwind tour to the 21 California Catholic Missions; and a collection of more than 200 devotional prayers, songs and mantras. Sweet Heart of Jesus is David's eleventh and newest music CD of inspirational new age songs.

In addition to teaching for Meru University online, David leads prayer vigils and seminars and hosts conferences in person and online. He also conducts annual pilgrimages to sacred sites worldwide. David lives with his wife Mona near Livingston, Montana.

For assistance creating an account or accessing a course, please contact registrar@meruuniversity.org.
Meru University is the education branch of
The Hearts Center
, a charitable spiritual community